1. The Basics
Watch this 7 min video on how to use your 2020 Armor.
2. TEN GAME MODES
Each vest comes with 10 built in training modes designed to sharpen all your skills.
These training or game modes require one vest. Train your reaction time, power, stamina, timing solo or in group settings. Connect the mobile app and get your data stored on your profile, or just play freely on the vest with its built in display.
Pair two 2020 Armor vests and challenge a partner or do drills lined up behind a bag.
3. DRILLS
Drills for private lessons, small and large class sizes on a bag, shield or on body.
If you find your vest is not holding a charge/dying prematurely, you will need to recondition the battery. Here is a video showing how to do this.
https://youtu.be/qxkg3FHRls0
If you suspect your vest is not detecting hits, you may have an issue with the internal components or outdated firmware. Here is video showing how to fix this https://youtu.be/TthLDwGsY4A
If you are having trouble syncing two vests together, it could be as simple as making sure to double-tap the vests at the same time! (Or chest bump). If you are doing this correctly and it still is not working, you may have an issue with the internal components or outdated firmware. Here is a video showing what to do
https://youtu.be/tQuhoemQBBM
If you are unable to sync your 2020 Armor vest to the mobile app, there are a few things that could be causing this. Here is a video describing what to do
Sometimes students tie the vests on a bag too tight, causing the silicone housing to be misaligned from the buttons and plastic enclosure underneath. Here is a video showing how to fix this
Frequently Asked Questions
Yes, we have 10 different sensitivity settings for the sensor which can apply to all ages, weights and skill levels from white belt to black belt.
We ship worldwide via courier service. Vests and Headgear Ships in 2-3 weeks within Continental US & Canada. Ships in 3 weeks to the rest of the world.
We are so convinced you will love the training, playing and sparring with your 2020 Armor that we're giving you up to 30 days from getting it to request a refund. Please send an email to support@2020armor.com to start the process. Only items purchased directly from our online store 2020armor.com can be returned through this process. Returns and exchanges are at the customer's shipping expense. Gear that has been customized may not be returned for refund.
We have a 1 year manufacturer's warranty.
The 2020 Armor App works on boht Apple iOS and Android devices
The batteries last on average of 6 hours, enough for a full day of classes. They are rechargeable and each vest and headgear comes with a charger.
NO! The Vest and head gear do not need any socks or any software to operate. It works out of the box!
YES! The 2020 Armor vest was built to be used in a class and training sessions, meaning it does not need a computer or TV to operate. Everything is self contained and your 7 year old students can operate it! There is an optional mobile app that connects to the vests which can show the score on a display if you wish if you want to have tournaments or in house events. Download the app here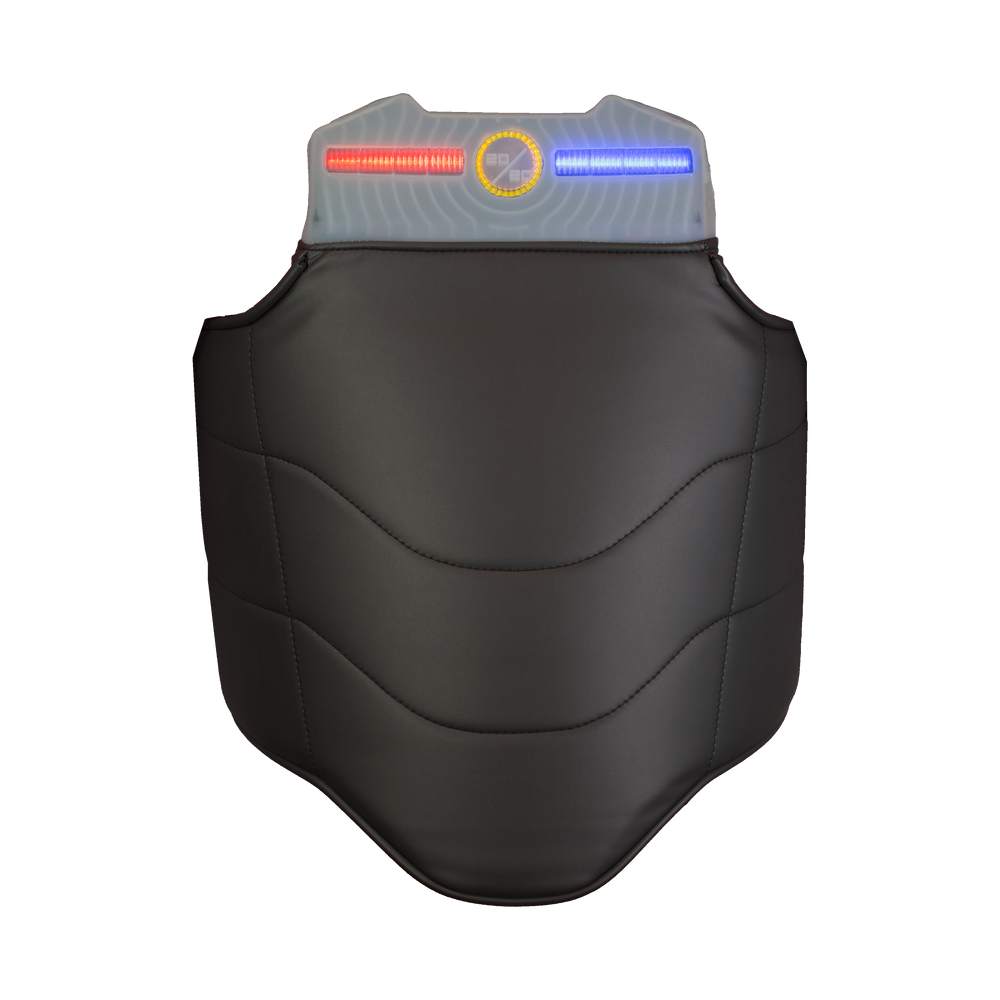 Contact Support
We're here to help you succeed. Our business-hours support team is here to answer questions and solve problems.
Email
Chat
(Click on Chat icon on bottom right of screen)
Phone
1-844-963-2020
Monday to Friday 8am-5pm EST
Push Tradition Forward
Join us in building a new era of martial arts. Train, evaluate and build your students' mental, emotional and physical confidence. Buy 2020 Armor today.